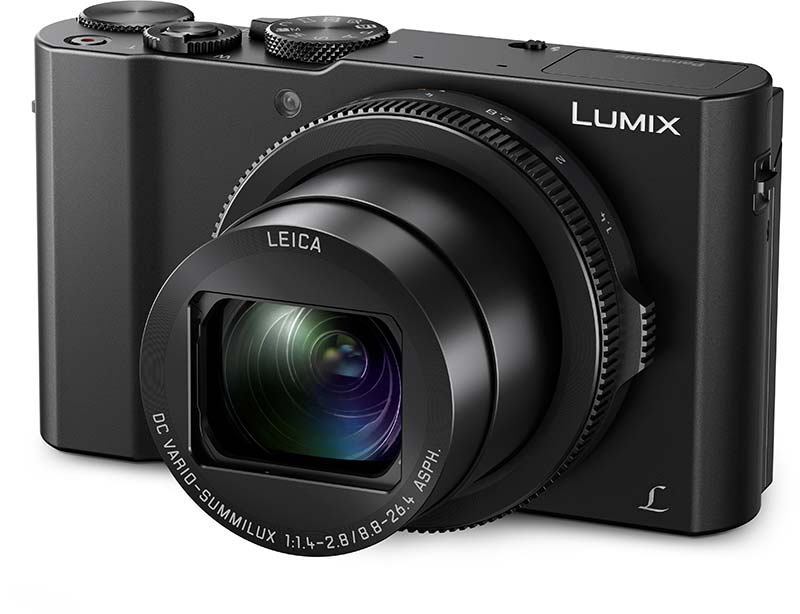 Panasonic Lumix LX15/10 Press Release:
Panasonic unveils the LUMIX LX15: A premium pocket-sized 4K camera, with a fast lens to capture sharp images anytime, anywhere
Panasonic today announces the ultimate compact camera for creative photographers – the LUMIX LX15 – which sets the standard for low-light performance and bokeh expression. The new camera offers an exceptional F1.4 high-speed lens and a 1-inch large MOS sensor; all in a sleek, stylish pocket-sized body.
The LUMIX LX15 is the next generation of Panasonic's world-renowned LX premium compact camera series. Integrating 4K video recording capability, it's the perfect choice for enthusiasts who want to release their creativity anytime, anywhere.
The LUMIX LX15 includes the newly-developed F1.4-F2.8 LEICA DC VARIO-SUMMILUX lens system with 3x optical zoom (35mm camera equivalent: 24-72mm). The lens lets a large volume of light into the camera, enabling the high-speed shutter release to capture clear, sharp images even in low-lit situations. It also allows for beautiful bokeh, making the subject stand out for impressive photos and videos.
Simple and effortless shooting of moving objects
The LUMIX LX15 brings the next era of photography to your pocket. The 1-inch MOS sensor with its 20.1-megapixel resolution realises high-quality image recording with stunning details. The MOS sensor contributes to a reduction in noise and improved S/N ratio, allowing for high-quality, high-sensitivity shots – even at ISO 12800. What's more, the newly-added Random Filter granulates chromatic noise to be blended into the image more naturally.
For even faster response and greater mobility, the LUMIX LX15 features a fast, high-precision autofocus (AF) with DFD (Depth From Defocus) technology, which shortens the time to set focus. It calculates the distance to the subject by evaluating two images with different sharpness levels at 240fps. This improvement in speed and precision is even greater as focal length increases. The LUMIX LX15 boasts high-speed burst shooting at 10 fps (AFS) / 6 fps (AFC) to capture fast-moving subjects in focus.
Experience the 4K evolution in videography/photography
Taking advantage of 4K technology, users can enjoy both 4K PHOTO and 4K VIDEO. With the 4K PHOTO capability, users can capture fleeting photo opportunities at 30 fps in 8-megapixel equivalent resolution by extracting the most photogenic frame from the 4K burst file to save as a photo. Three 4K functions are integrated to avoid missing the spur-of-the-moment action; 4K Burst Shooting, 4K Burst (Start/Stop) and 4K Pre-burst.
The LUMIX LX15 records stunningly smooth, high-resolution QFHD 4K video in 3840×2160 at 30p / 25p(50Hz Area) or 24p in MP4 in addition to the full-HD 1,920 x 1,080/ 50p videos in AVCHD Progressive or MP4 (MPEG-4 / H.264) format with practical full-time AF.
Not only that, the LUMIX LX15 also enables 4K Live Cropping in video recording – achieving stable panning and zooming. Thanks to the digital operation of the zoom lens, panning and zooming on images appears smooth because it doesn't physically move the lens. If the original footage is recorded in 4K, users can create a perfect full HD video with impressive special effects.
Advanced macro shooting for creative freedom
The LUMIX LX15 excels in macro shooting capability thanks to integrating Panasonic's cutting-edge optical/digital technologies. Stunning macro shots can be shot with a minimum working distance of 3cm (wide).
The LUMIX LX15 comes with Post Focus, a function that enables users to select in-focus areas after shooting. It's helpful in situations such as macro shooting, where extreme focusing is required, or for changing the expression of the image by changing the subject in focus (simply by touching it on the camera's integrated screen). This is beneficial when shooting macro shots of small objects such as insects or jewellery, or when shooting facial expressions.
Panasonic has also integrated a new Post Focus Stacking function into the LUMIX LX15, which enables users to take multiple images of the same frame with different areas in focus, then combine all or selected focus areas into one image.
Professional features in a compact body
The LUMIX LX15 is capable of shooting images in RAW and developing them in-camera. In addition to the colour space setting (sRGB/ AdobeRGB), the parameter of white balance, exposure compensation, contrast, highlight/shadow, saturation, noise reduction or sharpness can be flexibly adjusted while LUMIX's Photo Style, Intelligent D-range Control, Intelligent Resolution can also be applied.
The camera's two control rings for focus and aperture make it even easier for enthusiasts to manually select the ideal settings to create the perfect picture.
The LUMIX LX15 also integrates the popular Creative Control function, which features a total of 22 filter options that add fun to digital photography – exceeding the expectations of a compact camera. It is now possible to apply one of these filters even in P/A/S/M mode. Users can combine precisely the setting and filter they desire to create the optimal image.
A host of other exciting features
• 5-Axis Hybrid O.I.S. +
The 5-Axis Hybrid O.I.S. + (Five Axis Optical Image Stabilizer Plus) effectively compensates for handshakes occurring in virtually any direction, enabling smooth photo and video recording.
• 120fps high speed video recording
High speed video recording at 120fps (NTSC / FHD) or 100fps (PAL / FHD) enables enthusiasts to create beautiful slow-motion videos capturing spur-of-the-moment action in great detail.
• Easy Wireless Connectivity via Wi-Fi with Smartphones
The LUMIX LX15 integrates Wi-Fi connectivity (IEEE 802.11 b/g/n) to offer a more flexible shooting experience and instant image sharing with easy operation.
via Photorumors