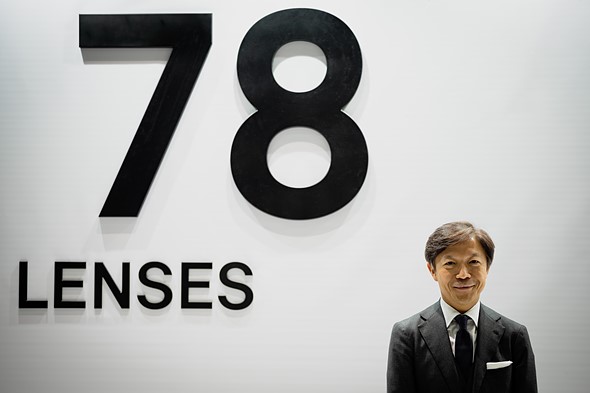 DPReview interviewed Kazuto Yamaki about CP+ 2019. Below are excerpts form the interview:
Sigma wanted to show commitment to L-Mount at CP+ 2019 and they feel they succeeded
The response to L-Mount has been very positive in fact better than expected
It's not comprehensive compared to Sony's system, but customers seem very interested in it
Sigma will probably make a few lenses designed for the short flange back of L-Mount this year
L-Mount users need a lot more lenses, which is why they announced 11 lenses at CP+
Sigma might make a few lenses only for L-Mount
Sigma tries to keep their lenses as affordable as possible all the way down to the employee level where they run the smallest team they can.
Sigma is about providing the highest quality at the lowest price
Can't comment on if they will implement DFD
DFD requires a lot of processing power
Sigma/Leica/Panasonic are constantly updating the way lenses communicate with the body to get the most out of technologies like DFD
Sigma is viewed as a 3rd party and because of this, they try to differentiate themselves from others
In the past, Sigma made similar lenses to manufacture at a low price, but that didn't work well
Sigma likes to bring unique lenses to camera systems
They produce everything in Japan today which makes it impossible to make cheaper
In the Future Sigma might make some smaller lighter lenses
They are very interested in Canon and Nikon mirrorless cameras and how they might grow
Sigma is working on optimizing their lenses for AF adapters atm
Mount circumference might cause issues with Sigma using one lens design across systems
Large circumference mounts make designing fast high-performance optics easier, but there are concerns of reflection problems coming from shorter flange-backs
Sigma will likely design their future mirrorless lenses for the longest flange back so they are easy to adapt
If Sigma designed lenses exclusively for Nikon Z mount they might be 2-3mm shorter but that won't make a big difference
CDAF lenses work better on PDAF cameras, but the image quality might go down
When designing a lens Sigma works on minimizing the aberrations and coma
Today Sigma can simulate their designs bokeh so they can check if its ok or not before committing to a lens design
Sigma doesn't want to go too big with their lineup, because it could cause confusion during production since they produce everything
If Sigma relied on many suppliers they could easily have a wide lineup of lenses for many systems, because they would just have to change their order size
Sigma is going to have to reorganize and they have been preparing for it because producing lenses designed for DSLR and Mirrorless will be a strain because it will likely increase the demands on their production line bet up to twice.
Sigma has plans to expand its factory with a new building in the same location as the assembly line to build modern high-performance glass
There will be more technology in the assembly line for checking performance and adjusting lenses
The assembly line is getting longer so they need more space and Sigma will start construction on two new buildings soon just to keep pace with modern technology and not to expand the production capacity.
Sigma is getting asked if they will make Fujifilm lenses by many and Fujifilm customers seem to want Sigma to make lenses for X-Mount.
Fujifilm has a lot of good customers and they match Sigma's ideal customer, but Fujifilm not disclosing their protocol between lens and camera makes designing lenses difficult, expensive, and time-consuming
For now, Sigma will stick to Sony E mount, our L-mount system, existing DSLR mounts and Micro Four Thirds.
Reverse engineering Canon and Nikon will likely be more profitable because their mirrorless mount market should be large enough to justify the expense
Sigma makes unique high-quality products, but when their camera bodies start coming out for L-Mount they should be more extreme
The Sigma DP was the first large-sensor compact camera so something along those lines would make Sigma stand out
Full Frame Fovean will offer better image quality than APS-C
Sigma plans for their Foveon to be 20MP x 3 so about 60MP and the pixel size will be large 1:1:1 like the original Foveon
The new Foveon sensor will have improved readout speed, color separation, noise performance
Sigma is working on improving color transition
DNG output was well received by customers at first, but many preferred SPP despite the processing penalty because it they were disappointed by the quality since the pre-processing was different
They are working on improving DNG performance
Sigma Photo Pro software can do some pre-processing that DNG cannot
The power of in-camera processing is limited so it's better to process on a PC
Sigma is impressed with the Canon 28-70mm f/2 and 50mm f/1.2 despite using slower motors
You can read the full interview here.