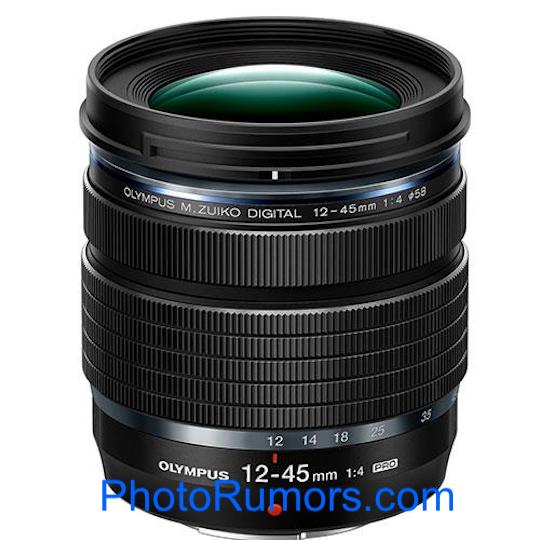 Photorumors received an exclusive leak of the new Olympus M.Zuiko Digital ED 12-45mm f/4.0 PRO which you can read below:
Effective placement of special lenses in the Olympus M.Zuiko Digital ED 12-45mm f/4.0 PRO lens allows for the world's most compact, lightweight design covering a focal length from wide-angle 24mm to telephoto 90mm (35mm equivalent). A small and lightweight focusing lens enables high-speed, precise AF for any subject. The lens features a dust-, splash- and freeze-proof construction with sealing in 9 places to keep out dust and rain, providing peace of mind when shooting on the go.
Enjoy intense macro shooting with a maximum magnification of 0.25x (0.5x 35mm equivalent) across the entire zoom range. The closest focusing distance is 12 cm at the wide-angle end, and 23cm at the telephoto end, delivering a wide range of macro shooting effects such as wide-angle macro shots that emphasize a sense of perspective by capturing vast backgrounds, and telephotorumors macro shots for more significant background defocusing effects. Diverse macro effects are possible, such as Focus Stacking, which generates a single image on the camera with large depths of field in focus from the foreground to the background.
Effective placement of aspherical lenses and ZERO (Zuiko Extra-low Reflection Optical PR) coating – which provides clear depictive performance – drastically reduces aberrations, ghosts, and flares for sharp, high-definition image quality. Suppressing loss of light at the edges of images makes it possible to obtain bright, clear depictive performance up to the very edges. Because the aperture value is fixed across the entire focal length, it is easy to control the exposure when zooming and recording video.
Filter Size:58mm
Dimensions: 63.4x70mm
Weight: 254 g
via Photorumors