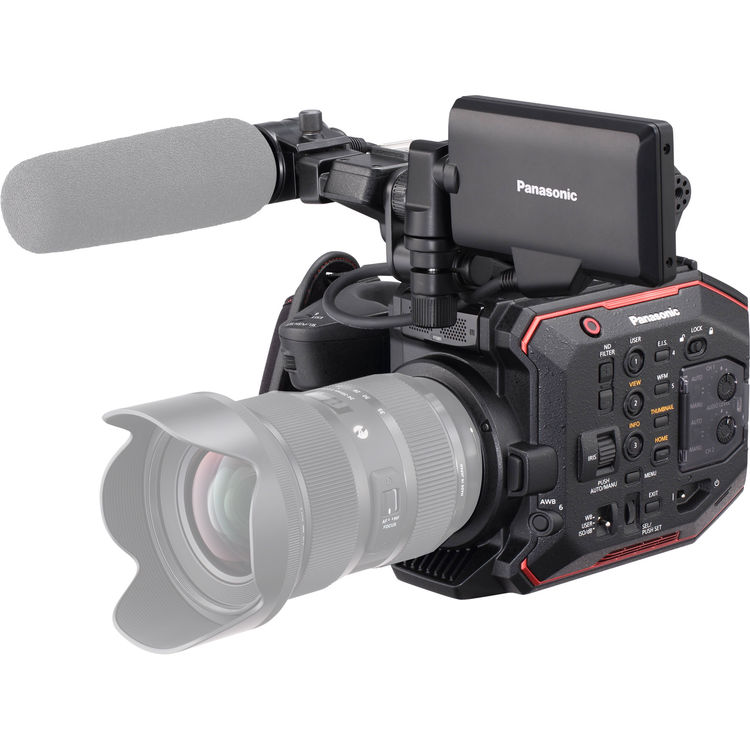 You can download the Panasonic AU-EVA1 firmware update here.
Panasonic AU-EVA1: B&H Photo / Amazon / Adorama
New Features
Additional recording formats
4096×2160(4K)
422Intra 400M 29.97p,24p,25p,23.98p
3840×2160(UHD)
422Intra 400M 29.97p,25p,23.98p
2048×1080(2K)
422Intra 200M 59.94p,50p
422Intra 100M 29.97p,24p,25p,23.98p
1920×1080(FHD)
422Intra 200M 59.94p,50p
422Intra 100M 29.97p,25p,23.98p,59.94i,50i
422LongGOP 50M 59.94i,50i
(Support for VFR)
4K / UHD
422Intra 400M Max 30fps
2K / FHD
422Intra 200M/100M Max 120fps (equivalent to 400M)
Support for Interval REC
Support for RAW Output
5.7K/30p, Crop 4K/60p, Crop 2K/240p
Output of CAMERA metadata (info about sensor, lens, etc.) superimposed on SDI
Output of information displayed on LCD so as to be able to use HDMI output for VF purpose(Focus Assist and HOME Screen)
Improvement in HOME Screen operability
Switching of VFR ON/OFF, SHUTTER ON/OFF and ISO/GAIN
Improvement of WFM
Transmittance of WFM display is lowered for improvement in readability.
WFM can be switched directly from Focus Square.
Compatibility with 3rd-party wired remote controls
Improvement
When SDI OUT menu is at OFF, mounting/dismounting of LCD causes REC S/S button on the Grip to no longer work. This problem is fixed.