Just released, the Boxfish 360 underwater camera allows professional content creators to capture sharper, more colourful and more exciting perspectives of the underwater world.
Auckland, New Zealand – 06 April 2017: Boxfish Research has today announced the release of their professional underwater virtual reality camera, the Boxfish 360. By utilising Micro Four Thirds sensors and specially calibrated lenses, the videos and photos captured by the Boxfish 360 offer higher clarity and better colour rendition than rigs based on action cameras. First unveiled at CES 2017, the Boxfish 360 has since undergone extensive user testing and the company is now taking orders.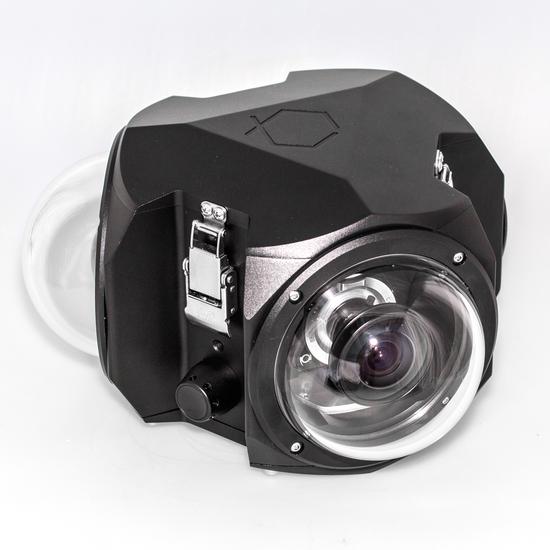 While 360-degree virtual reality story telling has made huge leaps since the early days, underwater content creators are still hampered by the soft focus, muddy colours, and obvious seams introduced by action-camera based rigs. "The physics of small sensors, small domes, and light filtered by water simply limits what you can achieve with action cameras underwater," said Richard Robinson, award winning Photojournalist and Underwater Photographer who has tested the Boxfish 360 extensively on assignments. By using larger cameras, Boxfish Research managed to halve the camera count of existing rigs, while increasing the sensor area almost five times. This is a win across the board: Better image quality, fewer seams, longer runtime, and a faster workflow. "The beauty of the Boxfish 360 is that the cameras stay inside the waterproof housing at all times, and a single hatch provides tool-less access to the recorded files and for charging," said Axel Busch, company co-founder. "It only takes a minute to swap batteries and cards. You are back in the water faster and the production workflow is much more streamlined".
The Boxfish 360 features three frame-synced MFT cameras, with images from each combining to create a single immersive, 5K 360-degree video and DNG RAW photo. With up to 90 minute runtime and an anodised aluminium housing rated to a depth of 300m (1000ft), the camera is the perfect tool to tell any immersive story. As an exciting bonus the Boxfish 360 features electronic recording of depth, water temperature and camera orientation during the dive. This creates an entirely new scope for stabilization, rich data overlays, HUD style displays or scientific research opportunities.
Full specifications and purchase information are available through http://www.boxfish-research.com/360. The Boxfish 360 is priced at USD 14,990.
Via DPReview