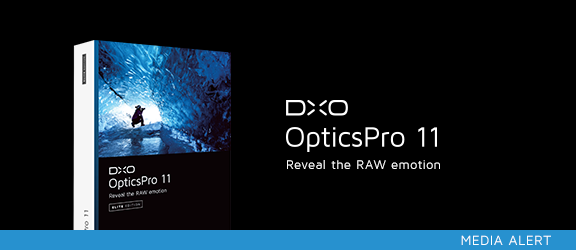 The Olympus OM-D E-M1 Mark II, Panasonic Lumix DMC-TZ80 / ZS60 / TZ81 and Lumix DMC-FZ2000 / FZ2500 are now supported by DXO Optic.
Press Release:
DxO OpticsPro v11.4 supports seven additional cameras
PARIS & SAN FRANCISCO — February 15, 2017 — DxO, a pioneer in digital imaging technology, announces that version 11.4 of DxO OpticsPro, its multiple award-winning image processing software, is now available for purchase. This latest update means DxO OpticsPro v11.4 now supports seven additional cameras: the Nikon D5600, the Olympus OM-D E-M1 Mark II, the Panasonic Lumix DMC-TZ80 / ZS60 / TZ81 and Lumix DMC-FZ2000 / FZ2500, as well as the Sony RX100 Mark V, A99 II, and A6500. DxO FilmPack v5.5.12 and DxO ViewPoint v3.1, which are now available as well, also support these cameras.
Essential tools for every photographer
DxO OpticsPro 11 sets the standard when it comes to image quality and offers many innovative features, including DxO PRIME, the industry's leading denoising technology; Spot Weighted mode, which uses facial recognition to reveal even the subtlest nuances; automatic tools such as micro-contrast mode, which improves image content with a single click, and red-eye correction, which uses automatic eye and facial recognition to offer highly effective batch processing. No matter the shooting conditions, DxO OpticsPro 11 helps photographers make their images even more beautiful.
Even more cameras supported
Thanks to its thorough knowledge of each lens and camera model, DxO OpticsPro automatically corrects all optical flaws with an unparalleled level of quality. With this latest version, DxO OpticsPro 11 adds 1,132 new camera/lens combinations to its library of DxO Optics Modules, bringing the number of available combinations to over 34,000!
Price and availability
DxO OpticsPro 11.4, DxO FilmPack 5.5.12, and DxO ViewPoint 3.1 are available for download on the DxO website (shop.dxo.com) and at specialized retailers at the following prices:
DxO OpticsPro 11 ESSENTIAL Edition :   $129 / £99
DxO OpticsPro 11 ELITE Edition :             $199 / £159
DxO FilmPack 5 ESSENTIAL Edition :        $79 / £59
DxO FilmPack 5 ELITE Edition :                $129 / £99
DxO ViewPoint 3 :                                        $79 / £59
Fully-functional, one-month trial versions for the three applications are available on the DxO website: http://www.dxo.com/us/photography/download