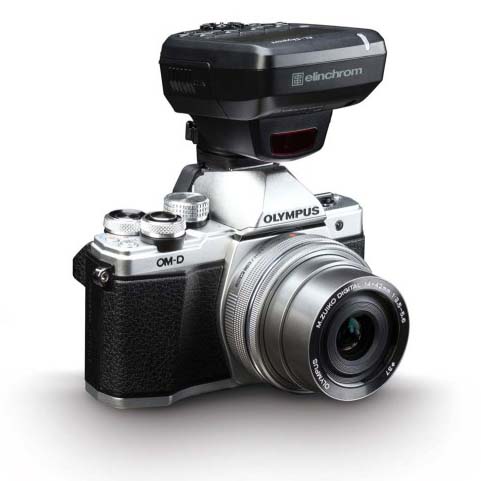 Elinchrom continues to expand the family of EL-Skyport Plus HS transmitters to Olympus users !
Since the launch of the EL-Skyport Plus HS for Canon, Nikon and Sony, the most advanced EL-Skyport is now available to Olympus users.
This will give photographers the ability to control and visualise power settings for all their compatible Elinchrom lights and gives them the opportunity to shoot at speeds up to 1/8000s in Hi-Sync mode.
Visual Feedback Interface
The Large LCD display of the EL-Skyport HS features two-way control via a visual feedback interface that lets you see the exact power up to 10 compatible Elinchrom lights in your setup, right on the transmitter. Users can control the modelling lamp and power of each flash unit directly from the EL-Skyport transmitter, which instantly shows the updated settings.
This provides an incredible system for every light in your setup, right from your camera.
Hi-Sync opens up the world of fash photography
Elinchrom Hi-Sync technology lets you go beyond the X-Sync of your camera. Photographers can simply switch to Hi-Sync mode and access sync speeds up to 1/8000s to freeze motion, overpower the sun, darken backgrounds or use a wider aperture. The ODS (Over Drive Sync) feature enables users to fine tune the EL-Skyport Plus HS transmitter's trigger signal to optimise exposure at high shutter speeds whilst gaining up to 2 more f-stops of light.
Even more
The EL-Skyport HS has 20 frequency channels that can be used for either Normal or Speed mode. The transmitter attaches easily and securely to the hotshoe with its quick-lock mechanism, and is powered by 2x AA batteries. Users can also enjoy a range of up to 656ft (200m) outdoors, and up to 196ft (60m) indoors.
The Skyport HS continues the Elinchrom
commitment to quality
Providing photographers with tools to enhance their shooting experience whilst also showing how Elinchrom is looking ahead to the future. The EL-Skyport HS represents a seamless extension of the EL-Skyport family since it is also compatible with the three previous generations of Elinchrom flash units (those using the EL-Skyport Transceiver RX module for Style RX, Digital RX, and Ranger RX systems, and those with integrated EL-Skyport modules for the BRX, D-Lite RX, ELC Pro HD, and ELB series.)
Other camera systems are currently being evaluated for future release.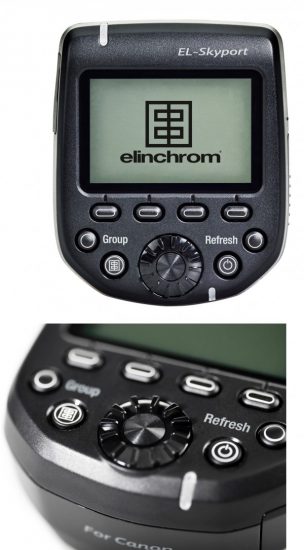 EL-Skyport Plus HS Features
Large LCD with unique, real-time display of remote flash power settings
Easy access buttons and rotation ring for fast setup and control
20 Channels, 4 Groups for Normal and Speed Sync Modes
Hi-Sync, up to 1/8000sec with Olympus, Sony, Canon and Nikon cameras
Extended working range up to 656ft (200m)
AF Illuminator and sure-lock mounting foot
USB port for future-proof upgrades
The EL-Skyport Transmitter Plus HS is now available for Olympus, Sony, Canon and Nikon cameras.
EL19372 – EL-Skyport Transmitter Plus HS for Olympus
EL19371 – EL-Skyport Transmitter Plus HS for Sony
EL19366 – EL-Skyport Transmitter Plus HS for Canon
EL19367 – EL-Skyport Transmitter Plus HS for Nikon
Street Price: $249.95 USD / €249 EUR / £199 GBP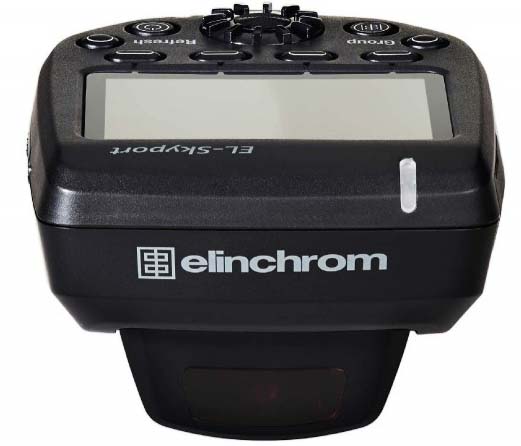 Specifications
Frequency Band : 2.4 GHz
Channels : 40; (20 in Normal mode – green / 20 in Speed mode – red)
Groups : 4: 1, 2, 3, 4
Flash synchronization :
Normal: limited to the native X-sync of your camera
Hi-Sync mode: up to a 1/8000 sec.*
2nd curtain sync: only Canon
Range : Up to 200m (656') for triggering
AF Assist Beam : Yes
Connection :
Foot for Olympus hotshoe (19372) Sony hotshoe (19371) Canon hotshoe (19366) and Nikon hotshoe (19367)
Mini-USB for firmware updates
2.5 mm remote release
Power source : 2x AA batteries
Indicators and Controls :
LCD screen display:
Sync mode, group, channel, ODS activation, Hi-Sync activation, shutter mode, remaining battery power, flash unit name, flash unit ID, flash unit power level, flash unit modelling level.
Buttons:
Group selection, test, rotation ring to change values, confirmation, on/off and refresh.
There are also 4 buttons with variable functionality:
Power +/-, Modelling lamp off/prop/free, Individual unit selection and setup on the dashboard. Menu up, menu down and exit in the setup menu.
Dimensions : 84.1 x 68.3 x 58.5 mm (3.3 x 2.7 x 2.3")
Weight : 120 g ( 0.27 lbs.) without batteries