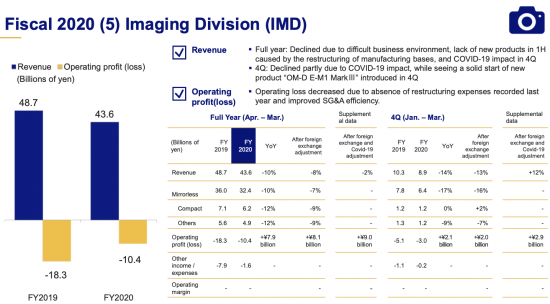 Olympus published their yearly financial results: revenue was down 10%, mirrorless sales were down 12% YoY. Here is the information for the Imaging Division:
Revenue amounted to ¥43.6 billion and declined 8% excluding FX impact.
Operating loss was reduced to ¥10.4 billion, an improvement by ¥8.1 billion excluding FX impact due to the absence of expenses for the restructuring of manufacturing base recorded in the previous fiscal year, coupled with improved SG&A efficiency.
While we saw a solid start of new product "OM-D E-M1 MarkIII" introduced in 4Q, operating profitability was not improved as planned due partially to our being unable to perform usual sales promotion activities in 4Q because of COVID-19 amid a tough competitive environment.
Source: Olympus, via PhotoRumors
---
Topaz Labs sale: DeNoise AI | Video Enhance AI
Get an additional 15% off with code RUMORS15