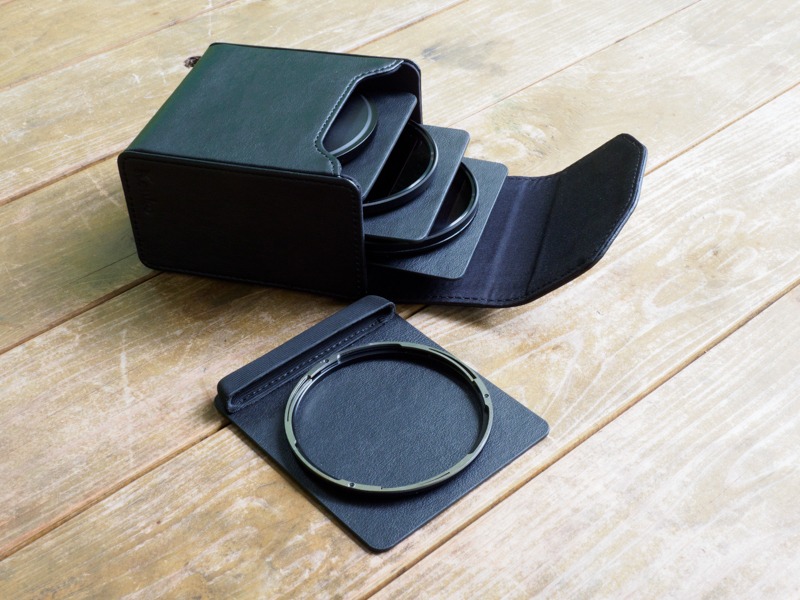 Kenko is releasing a new filter system call the Kenko One-touch filter kit and it's based on an interesting bayonet there is already a review up for the new system at DC.Watch and below you can find the press release. Kenko products can be found at Amazon and B&H Photo.
Press release:
Kenko Tokina Co., Ltd. (President: Toru Yamanaka) will start selling a filter kit "One-touch filter filter kit" and a special option that employ a new system that can instantly remove and mount a filter from June 21, 2019. The release lineup is as follows. (Price is manufacturer suggested retail price · tax excluding) 67S One Touch Detachable Filter Kit 67mm ¥ 42,500 72S One Touch Detachable Filter Kit 72mm ¥ 45,000 77S One Touch Detachable Filter Kit 77mm ¥ 50,000 Protector for one-touch detachable filter kit (67mm: ¥ 8,000, 72mm: ¥ 8,900, 77mm: ¥ 10,000). C-PL (67 mm: ¥ 16,800 72 mm: ¥ 17,800 77 mm: ¥ 21,000) for one-touch detachable filter kit. One-touch filter kit for ND4, 8, 16 and 1000 (67 mm: ¥ 11,200 72 mm: ¥ 13,000 77 mm: ¥ 14,500).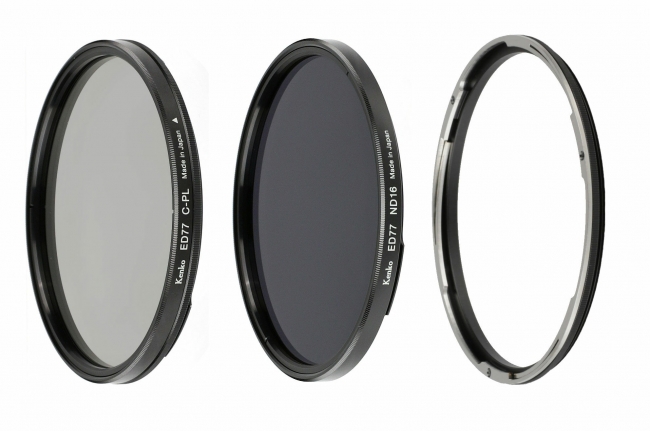 It is necessary to select and change the most suitable filter in order to reduce reflection with PL filter, to slow shutter speed with ND filter, and to pursue photographic expression. However, people who make full use of filter work may find it more difficult to attach and remove the filter. Therefore, we will release a revolutionary new product "One-touch Detachable Filter Kit (67 mm / 72 mm / 77 mm)" that can instantly remove the filter.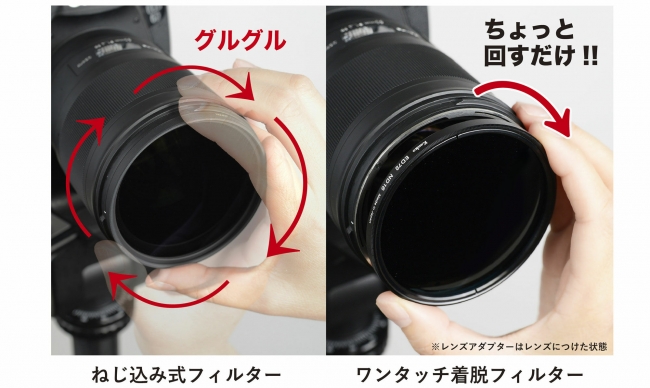 Features Can be removed instantly "One-touch filter kit" is a set of special filter and lens adapter, by attaching the adapter to the lens in advance, the filter can be instantly attached and removed by the bayonet type. You can quickly remove the filter without turning around like a normal screw-in filter. There is little vignetting Because the adapter is used, vignetting may occur more than a normal filter, but the thickness of the frame is reduced as much as possible by using a system of a dedicated filter + lens adapter to suppress vignetting. Set C-PL and ND16 frequently used in landscape photos In particular, I used a set of two frequently used filters in landscape photography. C-PL controls the reflected light to enhance color contrast. The ND16 uses a dimming effect to slow down the shutter speed and prevent overexposure. The easy-to-use concentration makes the best-selling ND16 among the ND filters a set. C-PL and ND16 can be quickly attached and detached depending on the application.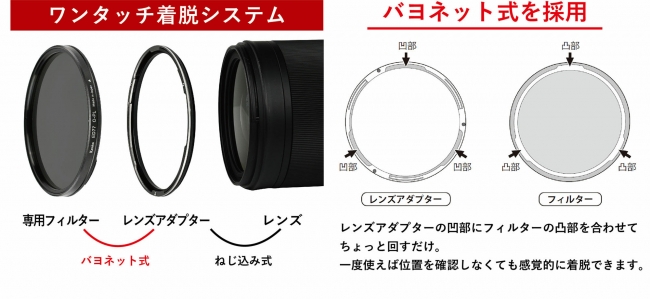 Optional special filter also available A lineup of lens protectors and ND filters (ND4, ND8, ND1000) with different densities are sold separately. ※ C-PL and ND16 are also available separately. Please see below for details. www.kenko-tokina.co.jp/imaging/filter/one_touch/ Kenko Tokina Co., Ltd. www.kenko-tokina.co.jp/
via FujiAddict