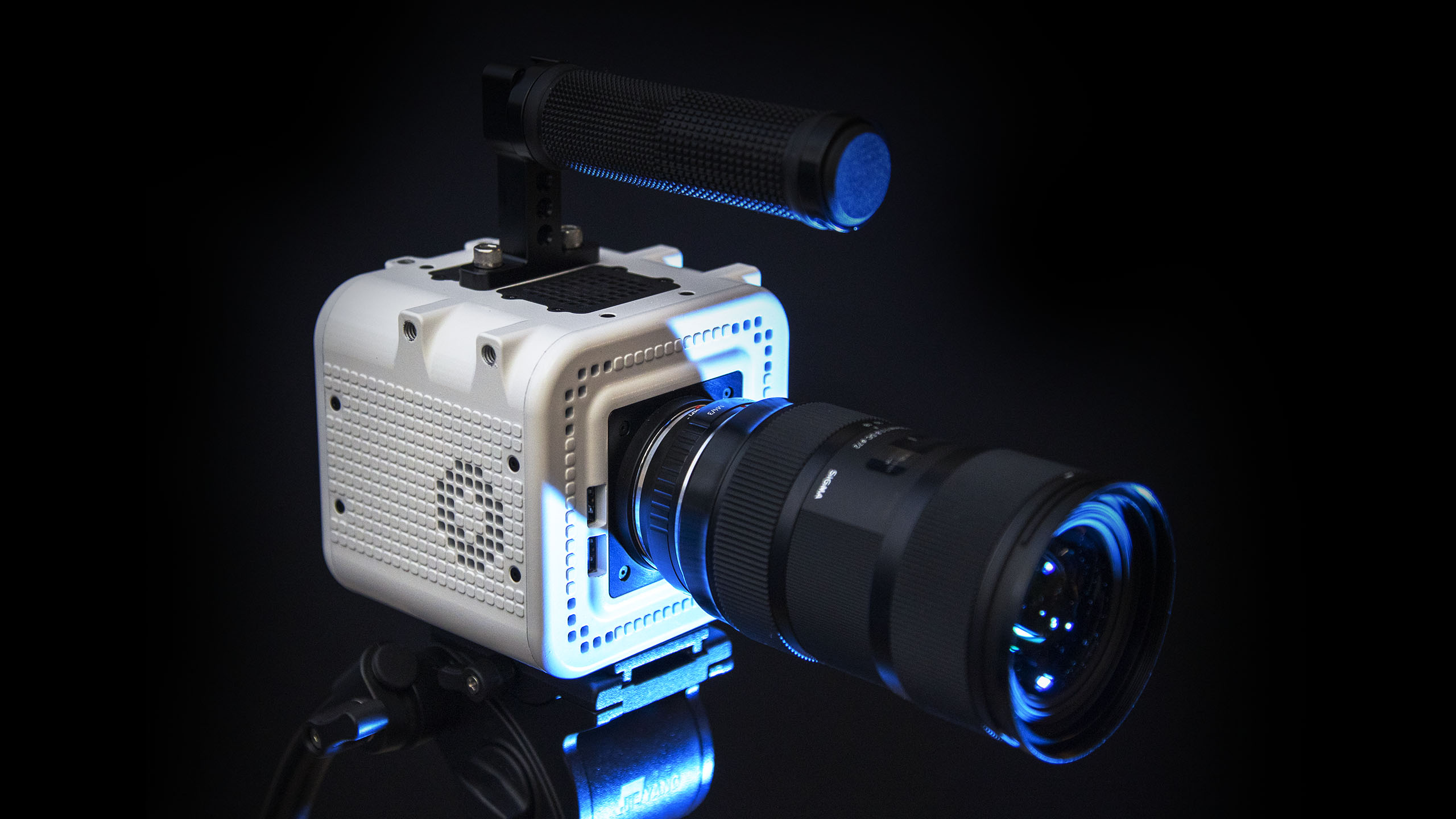 Newsshooter published an interesting article about the new Octopus Camera with swappable sensor. This will be a great feature going forward if they continue to expand their options as they go forward. Right now they have a 1.1-inch, m43, and full frame sensor available, but maybe they will get more specialized with time.
The Octopus is basically a computer system that you attach a sensor too and it supports lossless compressed 12-bit RAW 4k in CinemaDNG format out of box. The camera also has 900MBit 10-bit HEVC. Additional formats can be added in the future with their SDK through Libavcodec or 3rd party libraries.
The camera records to SSD and CFast 2.0 attached via SATA III or USB3. It is made out of Milled Aluminum and measures 110 x 110 x 110mm and weighs around 900g.
5K FULL FRAME SPECIFICATIONS
Sensor
Sony IMX253
Sensor Resolution
4112 x 3008
Global Shutter
Yes
Dynamic range
Approx. 12 stops
Sensor Options
Monochrome / Color
Recording Codec, Frame Rates & Resolution
12-bit Lossy RAW / 10-bit HEVC
5K up to 48fps
4K up to 60fps
3K up to 100fps12-bit Lossless Cinema DNG
4K up to 30fps
3K up to 60fps
2K up to 120fps
Bitrate
Up to (900Mbit) 10-bit HEVC
Weight
900g
Dimensions
110 x 110 x 110mm
Hardware
Mainboard – Intel® NUC 7i7DNBE
8th Gen Intel® Core™ i7-8650U
16GB DDR4 RAM (Upgradeable to 32GB)
SATA III 6GB/s, 4x PCI-e Gen 3.0
4x USB3 Ports, 2x HDMI 2.0 Ports
4K 4/3 SPECIFICATIONS
Sensor
Sony IMX253
Sensor Resolution
4112 x 3008
Global Shutter
Yes
Dynamic range
Approx. 12.5 stops
Sensor Options
Monochrome / Color
Recording Codec, Frame Rates & Resolution
12-bit Lossy RAW / 10-bit HEVC
4K up to 70fps
3K up to 120fps
2K up to 240fps12-bit Lossless Cinema DNG
4K up to 30fps
3K up to 60fps
2K up to 120fps
Bitrate
Up to (900Mbit) 10-bit HEVC
Weight
900g
Dimensions
110 x 110 x 110mm
Hardware
Mainboard – Intel® NUC 7i7DNBE
8th Gen Intel® Core™ i7-8650U
16GB DDR4 RAM (Upgradeable to 32GB)
SATA III 6GB/s, 4x PCI-e Gen 3.0
4x USB3 Ports, 2x HDMI 2.0 Ports
CMV20000 KEY FEATURES
Pixel : 20 MP
Pixel Size : 6.4 x 6.4 µm
Resolution : 5120 (H) x 3840 (V)
Chroma : Monochrome. RGB
Optical Format : 35mm
Sensitivity : 8.3 V/lux.s
SNR : 41.7 dB
Frame Rate : 30 fps (12 bit)
Supply Voltage : 1.8 to 3.3 V
Power Consumption : 1100 mW
Package Type : PGA, Ceramic
Frame rate 30fps
12 bit ADC output
High Dynamic Range mode supported
Power dissipation control
On chip temperature sensor
On chip timing generation
SPI-control