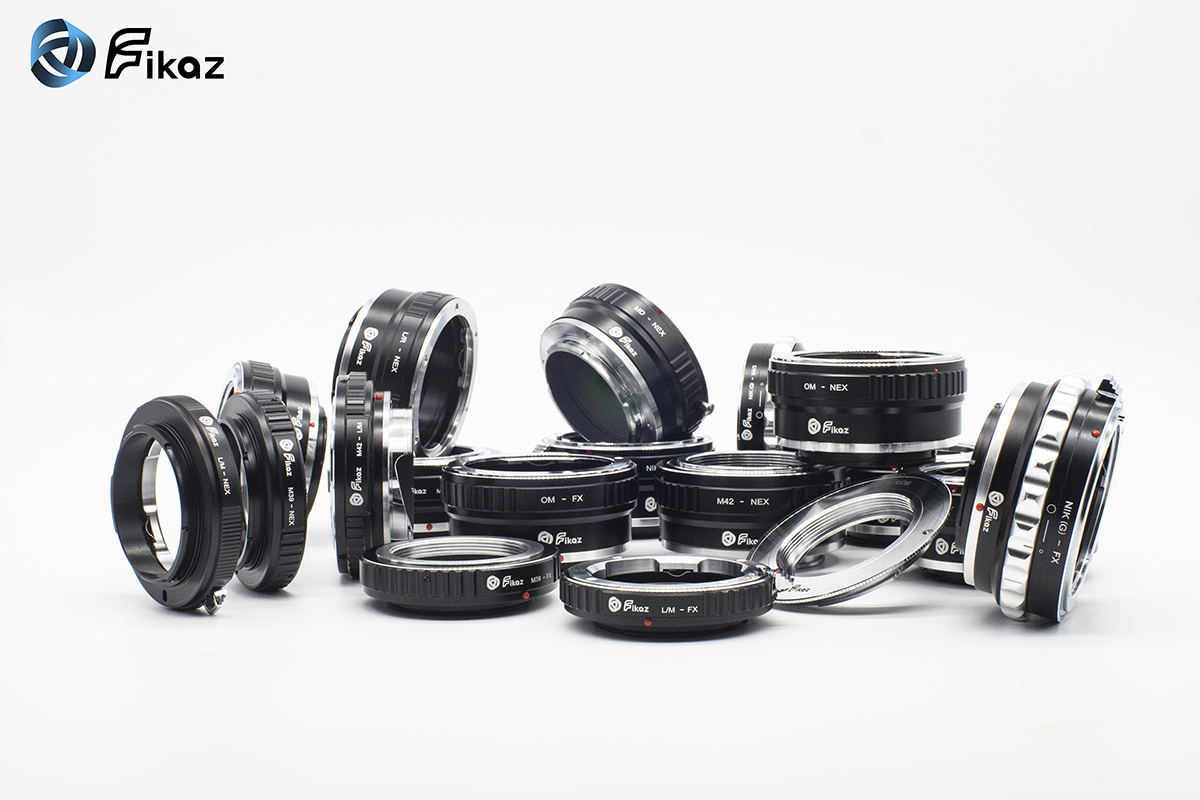 PRESS RELEASE:
The new FIKAZ bayonet adapters for Sony E, Micro 4/3, Fujifilm X, Nikon F and Pentax K
Polish importer of the Fikaz brand, 180 Degree Sp. z o. o., expands the offer of bayonet adapters with further models, including for cameras with Sony E and Micro 4/3 mounts.
The manual, fixed focal length lenses produced decades ago are now experiencing their second youth. The optical defects of old glasses, which in modern constructions are adjusted to a minimum, can be used to achieve unique, creative effects. In turn advanced systems supporting manual focus in modern cameras, especially in mirrorless cameras, make using the manual lens very easy and quick. And although in recent years one can observe a significant increase in the prices of the old optics, in comparison to contemporary, bright lenses their prices are very attractive.
Take advantage of the potential of classic, analog lenses in your camera. Thanks to FIKAZ brand adapters, you can connect M42, M39, Canon FD, Minolta and many more to your camera.
The offer sklepobeznazwy.com.pl appeared high quality bayonet adapters brand FIKAZ. They are made of anodized aluminum and brass, making them very durable, resistant to damage and do not short-circuit contacts in the camera. A black, matte finish prevents unwanted glare.Thanks to very high precision, the adapters are perfectly matched to the camera bayonet and the lens.
Canon FD, Sony A / Minolta and Nikon F lens adapters are equipped with an aperture adjustment / closing ring.
All FIKAZ adapters allow manual focusing in full range, including infinity. Where necessary, a high-quality corrective lens made of optical glass was used.
List of available adapters:
Mount Fujifilm X:
M42-Fujifilm X
M39-Fujifilm X
Pentax K-Fujifilm X
Canon FD-Fujifilm X
Nikon F-Fujifilm X
Sony A / Minolta AF-Fujifilm X
Minolta MD-Fujifilm X
Leica M-Fujifilm X
Mount Sony E :
M42-Sony E
Nikon F-Sone E
Sony A / Minolta AF-Sony E
Minolta MD-Sony E
Micro 4/3 mount :
M42-Micro 4/3
Nikon F-Micro 4/3
Canon EOS mount :
Mounting Pentax K :
Mounting Nikon F :
The importer announces that the offer will be expanded by new adapters, including Exacta and Contax lenses, as well as Fujifilm GFX cameras.
FIKAZ Bayonet Adapters are available on Amazon
via optyczne