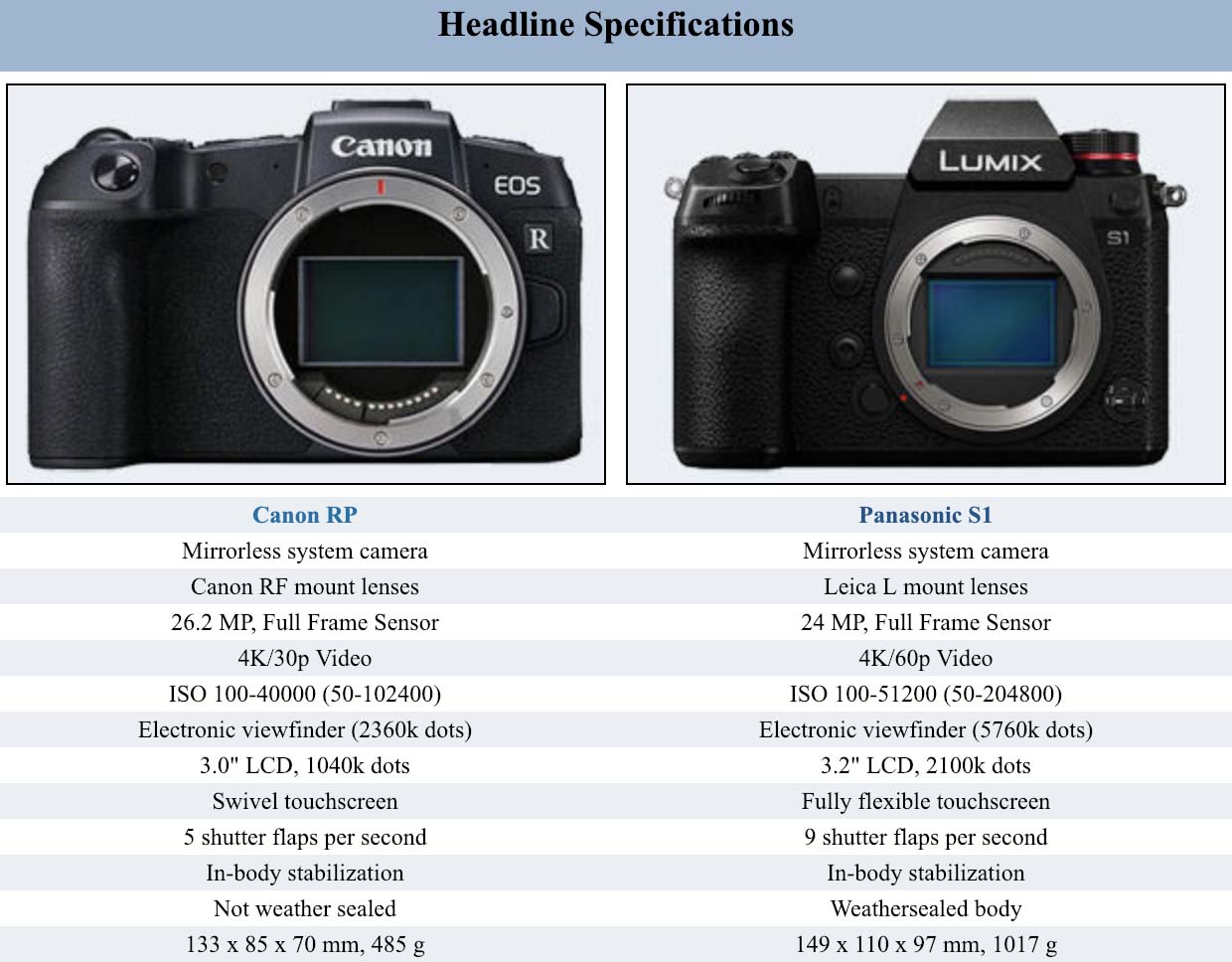 Apotelyt added the Canon RP to their comparison tool and it is very compact. Canon is offering an amazing value with the Canon RP and it might just convince some to stick with Canon. Panasonic doesn't really have a full frame camera read to compete with the Canon RP, but the Panasonic S1 is the closest. You can see the comparison at Apotelyt and the advantages from Apotelyt are below.
Advantages of the Canon EOS RP:
More detail: Offers more megapixels (26.2 vs 24MP) with a 5% higher linear resolution.
Better moiré control: Has an anti-alias filter to avoid artificial patterns to appear in images.
Better video autofocus: Features on-sensor phase-detection for more confident movie autofocus.
More selfie-friendly: Has an articulated screen that can be turned to be front-facing.
More compact: Is smaller (133x85mm vs 149x110mm) and thus needs less room in the bag.
Less heavy: Is lighter (by 532g or 52 percent) and hence easier to carry around.
More affordable: Was introduced into a lower priced category (36 percent cheaper at launch).
Reasons to prefer the Panasonic Lumix DC-S1:
Maximized detail: Lacks an anti-alias filter to exploit the sensor's full resolution potential.
High quality composites: Can combine several shots after pixel-shifting its sensor.
Better video: Provides higher movie framerates (4K/60p versus 4K/30p).
More detailed viewfinder: Has higher resolution electronic viewfinder (5760k vs 2360k dots).
Easier setting verification: Features a control panel on top to check shooting parameters.
Larger screen: Has a bigger rear LCD (3.2″ vs 3.0″) for image review and settings control.
More detailed LCD: Has a higher resolution rear screen (2100k vs 1040k dots).
Faster burst: Shoots at higher frequency (9 vs 5 flaps/sec) to capture the decisive moment.
Better sealing: Is splash and dust sealed for shooting in inclement weather conditions.
More solid recording: Has a full-sized HDMI port for a sturdy connection to an external recorder.
Better studio light control: Has a PC Sync socket to connect to professional strobe lights.
Greater peace of mind: Features a second card slot as a backup in case of memory card failure.
Follow 43addict on Facebook, Twitter, Instagram, and YouTube
Panasonic S1: B&H Photo / Amazon / Adorama
Panasonic S1R: B&H Photo / Amazon / Adorama
Panasonic 50mm f/1.4 S: B&H Photo / Amazon / Adorama
Panasonic 24-105mm f/4.0 S: B&H Photo / Amazon / Adorama
Panasonic 70-200mm f/4.0 S: B&H Photo / Amazon / Adorama