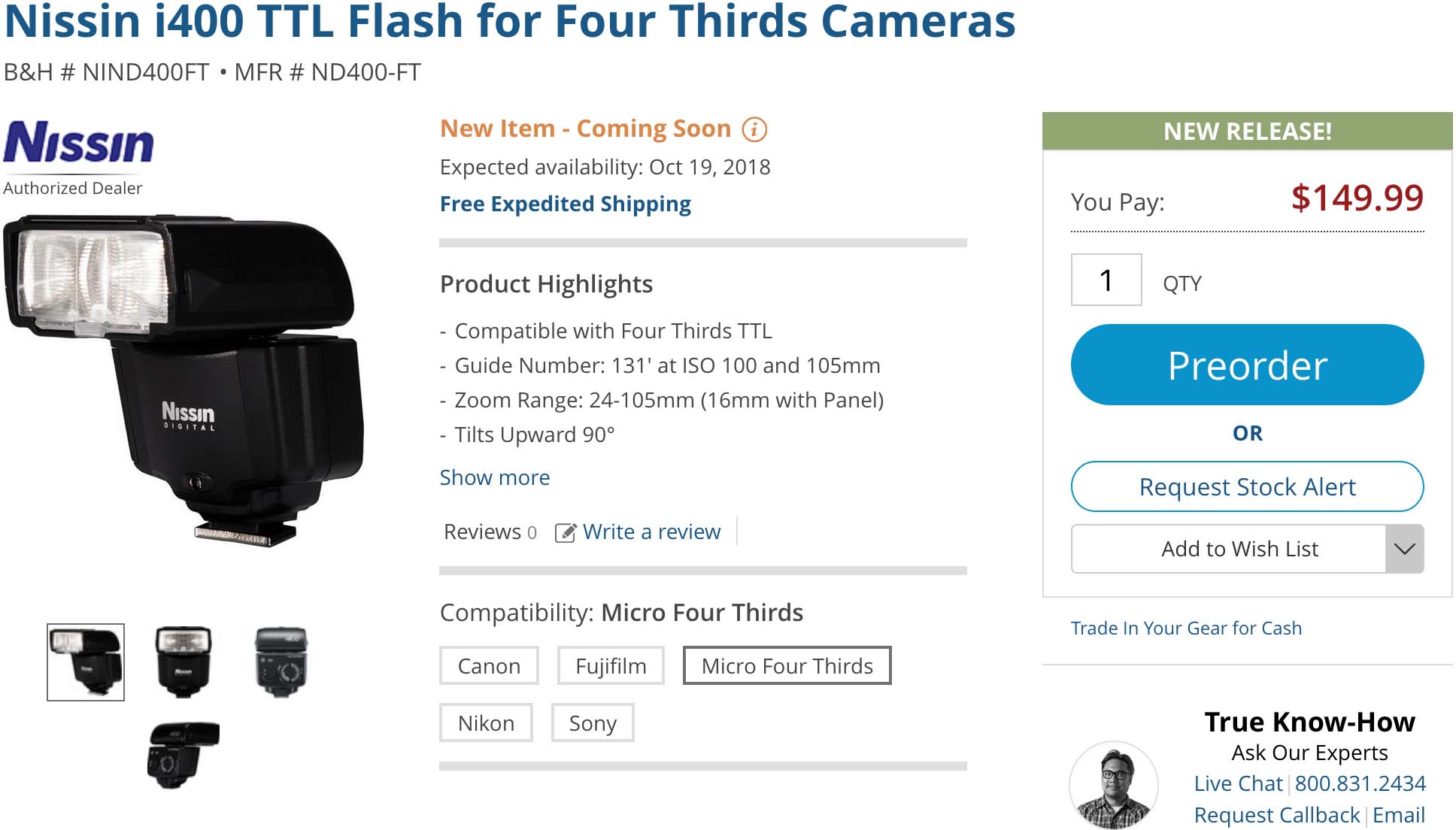 The Nissin i400 is a new "affordable" flash coming soon from Nissin. The only information we have about this flash at this time comes from B&H Photo and it can be read below.
The Nissin i400 TTL Flash for Fujifilm cameras is a simple but powerful compact flash designed for use by both pros and enthusiasts. It features TTL functionality and a guide number of 131′ at ISO 100 and in the 105mm position for providing coverage within a zoom range of 24 to 105mm, or down to 16mm with the built-in wide-angle diffuser. The shoe-mounted flash head tilts upwards 90° and rotates 180° in both directions for complete 360° coverage.
The i400 features full manual control as well as a range of preset modes to achieve just the right lighting setup. Choose from slow-speed, high-speed, and 1st and 2nd curtain synchronization in addition to variable power from 1/1 to 1/256. The flash runs on 4 AA batteries.
Simple, no-frills, compact flash designed for both pros and enthusiasts
Guide number at ISO 100 of 131′ at 105mm and 89′ at 35mm position
Recycle time of 0.1 to 4 seconds
Approximately 220 to 1700 flashes on a single set of fully-charged batteries
Color temperature of 5600K
Exposure compensation from -2 to +2 EV in 1/2 step increments
AF assist beam with range of 2.3 to 16.4′
Flash duration of 1/800 to 1/20,000 second
Red-eye reduction modes
Two selector dials on the back of the flash for changing modes and adjusting power settings