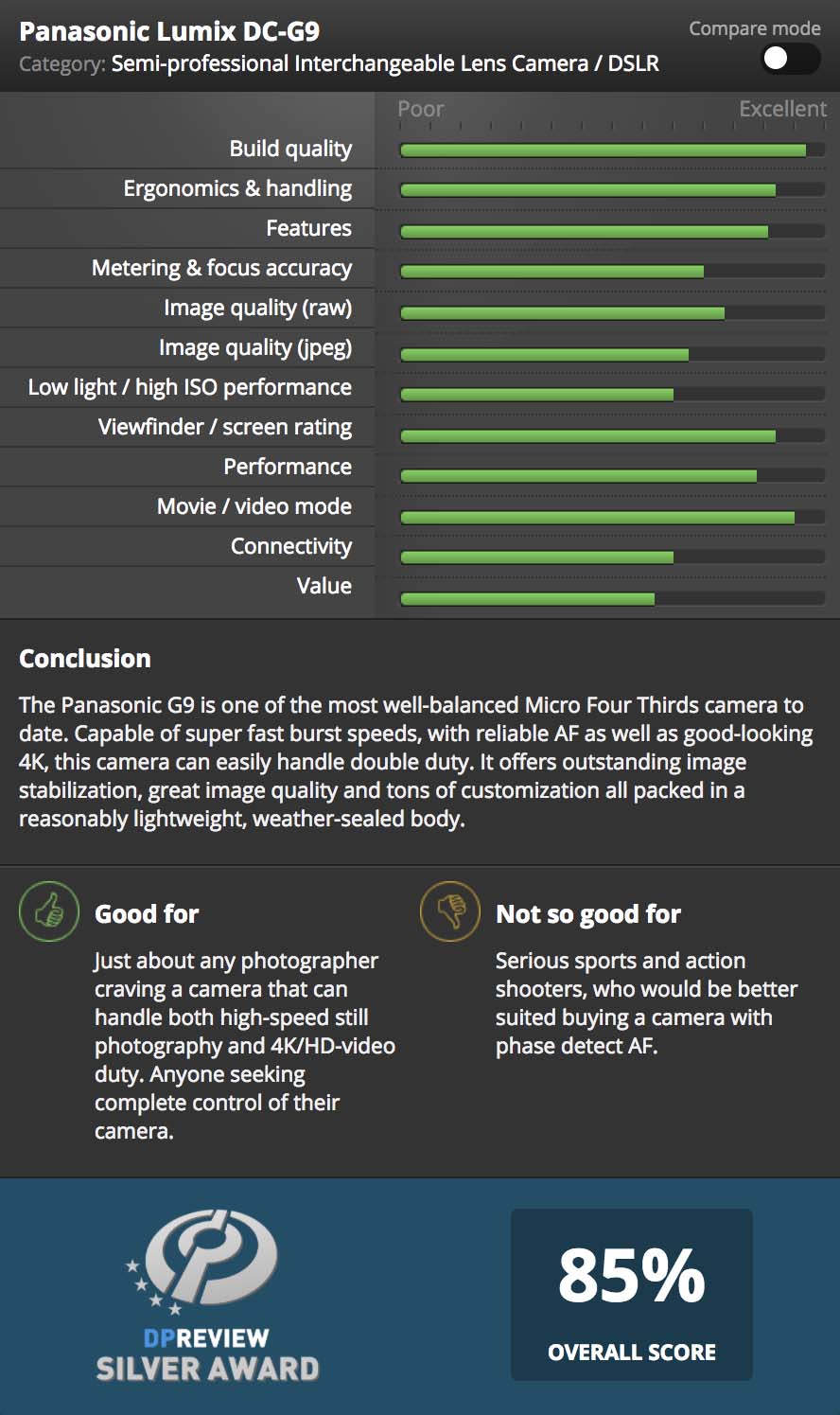 DPReview published their Panasonic G9 review today and it received an overall Silver Award. The camera is very well rounded for a m43 camera and DPReview seems fairly impressed with the camera.
Pros
Cons

20MP sensor increases resolution with no increase in pixel-level noise
JPEG noise reduction/sharpening is improved
Improved JPEG color, especially in challenging light
High quality UHD 4K/60p video capture
Best in class image stabilization for still shooters
Best continuous AF performance we've seen from a contrast detect system
Improved subject recognition
Continuous shooting at 20 fps with continuous AF
Buffer at 9 fps is virtually endless
High Resolution mode offers extra detail, useful for static subjects
Large electronic viewfinder
Rugged, weather-sealed body with easy-to-access controls
Top plate LCD
AF joystick
Highly-customizable
Face Detect AF can finally be turned on without a trip to menus
Dual UHS-II high speed card slots, with support for V-class
USB 3 (Type C) jack can power and charge camera
Wi-Fi and Bluetooth

Depth from Defocus flutter is distracting when shooting action
EVF resolution drops when shutter is pressed
AF joystick can not move points diagonally and is not responsive enough
Nose activates touchpad AF, no option to limit activation area
Screen can not be flipped out when ports are in use
20 fps mode using electronic shutter can result in rolling shutter effect
You can read the full review on DPReview here.
Join our new Panasonic G9 Owners group on Facebook and follow 43addict on Facebook and Twitter.