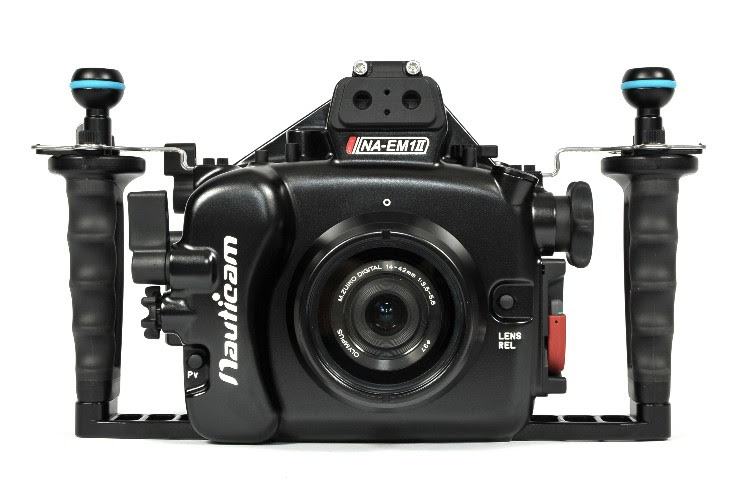 Olympus OM-D E-M1 Mark II
The Ultimate OM-D!
Compared to the previous E-M1, and all other Olympus Micro Four Thirds cameras, the E-M1 II is an improvement in every way.  The new 20MP Live MOS sensor provides a useful bump in resolution.  Dual quad core processors combine to allow 60 fps burst shooting (18 fps with autofocus).  An incredibly advanced autofocus system (121 focus points covering 75-80% of the frame) grabs subjects instantly without hunting, and doesn't let go when tracking.
It takes more than just headline grabbing specs on paper to make a great underwater camera system, and the E-M1 Mark II does many of the less obvious things right.  The "2×2" dial and button structure doubles the functionality of the control dials and assignable push buttons. Typically these dials control shutter speed and aperture when shooting in manual mode, but with a flick of the 2×2 lever they are reassigned to other parameters (like ISO and Exposure Compensation, as an example). The control dials provide the easiest way to access frequently used camera settings directly, and Olympus has doubled their usefulness!
It seems to be a trend among camera makers to sacrifice battery life and handling in an effort to to reduce overall size.  Olympus didn't make this mistake with E-M1 Mark II. The substantial hand grip provides exceptional handling, even with larger lenses, and makes space to accommodate a large battery that offers an exceptional 440 shots per charge (based on the CIPA rating, and many more are likely in real world use).
Also new, and notable, is a high bitrate UHD (4K) video recording mode coupled with very capable image stabilization. The camera offers HDMI output to an external monitor, providing an upgraded display for framing, exposure check, and focus confirmation.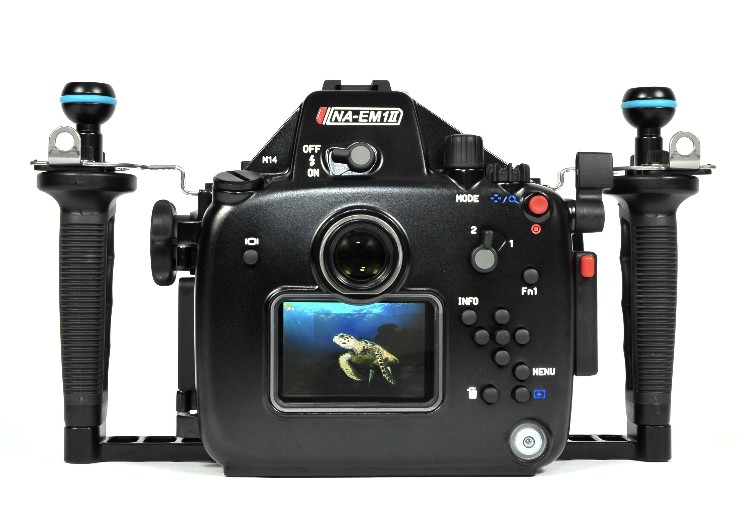 Key Camera Specifications
20MP Live MOS sensor
5-axis in-body image stabilization system
121-pt hybrid AF system
60 fps burst shooting (18 fps with continuous AF, 10 fps with flash)
Fully articulating 3″ LCD display
High-res electronic viewfinder
Cinema (DCI) and UHD 4K video
50MP High-Res Shot mode
Weather-sealed body
USB 3 (Type-C)
The NA-EM1II Housing
A camera of this caliber deserves an exceptional underwater housing.  Five and a half years ago, Nauticam entered the Micro Four Thirds underwater housing segment.  17 housing models later, Nauticam is proud to have produced more mirrorless underwater camera housings than any other manufacturer. The Nauticam NA-EM1II isn't a new design, it is a refinement of the housings that have come previously.  The system is field tested, and underwater photographer approved.
The housing is small, but not at the expense of functionality or ergonomics.  Integrated handles provide a sturdy and comfortable base to operate the system from.  An ergonomic shutter release lever, thumb lever for AE-L / AF-L, and well placed control dials provide the same operational feel as any Nauticam DSLR housing.  Control buttons are placed within easy reach of the handles, with sufficient spacing to allow easy operation, even by feel.  The ergonomic experience of this system is clearly influenced by Nauticam DSLR systems, with class leading control access and feel.
More than just good looking, this is a rugged housing, ready to tackle thousands of hours of underwater abuse. Crafted from solid aircraft aluminum, the housing can reach depths of 100m with ease. The secure single rotating housing latch opens the housing back. The camera drops in easily. The rear mounted housing o-ring makes maintenance simple. Dual fiber optic synch ports are standard and take advantage of the camera included FL-LM3 flash for strobe triggering. To make the most of the E-M1 Mark II's excellent electronic view finder (EVF), Nauticam allows for installation of the acclaimed 45º and 180º magnified viewfinders, providing the ultimate in composition and focus ability.
The NA-EM1II is a professional grade underwater housing, supporting the pro-level E-M1 II camera body to its full potential.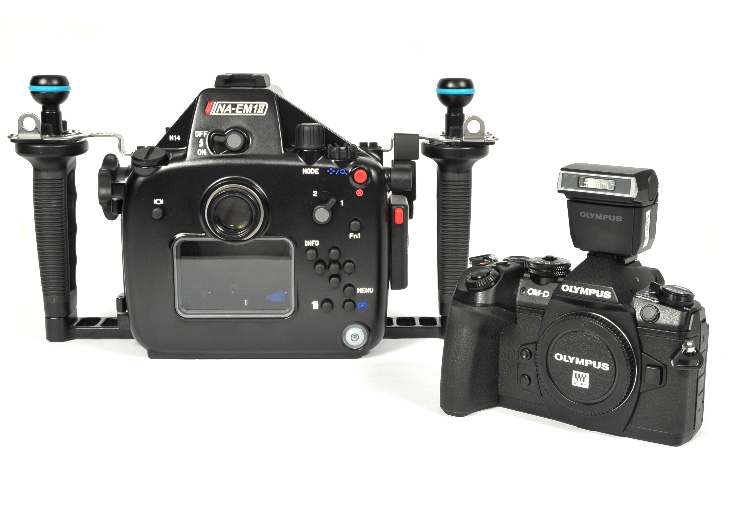 Details and Specifications
Depth Rating:  100m
Weight: 1.95 kg
Dimensions: 305mm x 175mm x 116mm W x H x D (w/ handles and mounting balls)
Model Number: 17811
USA Retail Price: $1900
Via Nauticam, Sample Photos