Meyer-Optik Görlitz has another Kickstarter campaign to bring back the Primoplan f1.9/58. Don't miss out on the early perks if your interested in picking one up.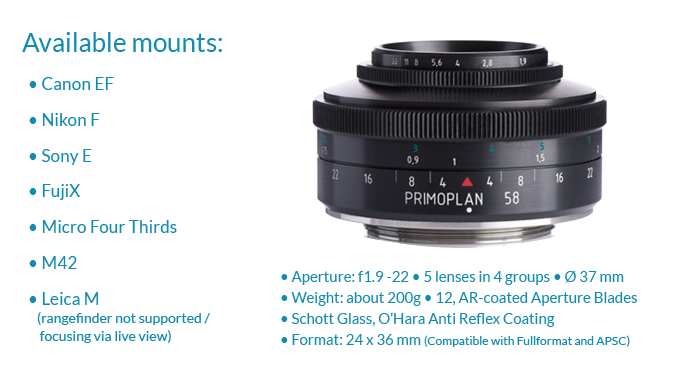 Technical Details:
Light Intensity: f1.9-22
Aperture Blades: 12, AR-coated Aperture Blades
Optical Design: 5 lenses in 4 groups
Lenses: Schott Glass, O'Hara Anti Reflex Coating
Format: 24 x 36 mm (Compatible with Fullformat and APSC)
Filter Diameter: Ø 37 mm
Clip-On Diameter: M 35 x 0,5
Focal Length: 58 mm
Minimum Focusing Distance: 60 cm
Angle: +/- 20,3°
Focusing: Manual
Size: Ø 58 mm / Length: 55 mm
Weight: about 200g
Press release: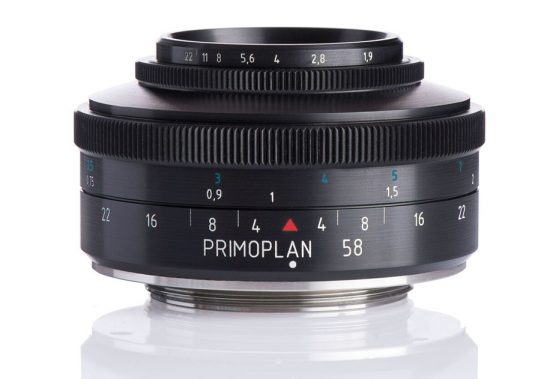 The Hand-Crafted Lens Famous for its Versatile Bokeh Returns to Production After 60 Years
The legendary Primoplan f1.9/58, last produced in the 1950s, will return in modern form with the help of a Kickstarter project that German lens manufacturer Meyer-Optik-Goerlitz launched today.
Through the Kickstarter project, Meyer Optik Goerlitz offers backers the chance to be first in line to receive the new Primoplan 58 at a greatly reduced price. The initial offering allows early backers to pre-order the lens for $499, about a third of the expected retail price when the modern version of the Primoplan 58 comes out next year.
Like its vintage namesake, the revived Primoplan 58 will produce a variety of signature bokeh, from the  so-called butterfly bokeh where he bubbles seem to melt to a creamy, dreamlike bokeh to  a more subtle swirling out-of-focus area that gives portraits and urban photography, alike, a unique look. The versatile lens allows photographers to express themselves in many with a single lens. The new Primoplan, however, will benefit from advancements unavailable in the 50s, including a high-tech lens coating and improved technology and design.
The Kickstarter for the Primoplan 58 will run for 33 days. It follows two previous successful Kickstarters that were essential in reviving Meyer-Optik's Trioplan f2.8/100 and f2.8/50, which are renowned for their trademark "soap bubble" bokeh.
The earlier Kickstarters raised a combined $1 million as photographers around the world rushed to get the modern version of the beloved vintage Meyer-Optik lenses.
"The infusion of Kickstarter capital helped us improve and expand our production facility in Germany, allowing us to resurrect the Trioplan line much quicker than we could have done without the support of our backers," said Dr. Stefan Immes, Meyer-Optik CEO. "Meyer-Optik's rebirth could not have happened without the hundreds of people who supported our vision on Kickstarter, not once, but two times."
Along the way, Meyer-Optik engineers also had an important breakthrough while working on the design of the new Primoplan 58. They figured out a way to implement the 5-element lens of the Primoplan into a casing that's almost identical in size to the Trioplan 50. This will allow Meyer-Optik to manufacture components for both lenses at the same time, achieving a previously unattainable production efficiency.
The Primoplan lens will be available with mounts for
Canon EF
Nikon F
Sony
FujiX
Micro Four Thirds
M42
Leica M (rangefinder not supported/focusing via live view)