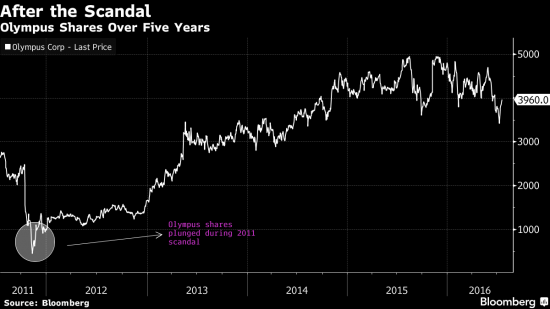 After the accounting scandal in 2011 Olympus is continuing to improve their financial result – today their stock is priced about 8x higher than the lows of 2011. From Bloomberg:
Five years ago, Olympus Corp. was caught up in the oddest of corporate scandals. Its then-CEO, Michael Woodford, uncovered an accounting scandal at the company that went undetected for years, besmirching the name of a once-proud Japanese maker of digital cameras and medical equipment.

The challenge of getting the company out of the penalty box, restoring investors' trust and expanding again has fallen to Hiroyuki Sasa, who took over as CEO in 2012.

Though the company's stock is priced about eight times higher than the lows of 2011, Sasa has his work cut out for him.

In addition, Olympus, which started as a microscope maker before selling its first camera in 1936, is attempting to turn around its camera business. After a number of losing quarters the camera business is now in a position to turn a profit, Sasa said.